WHAT'S HAPPENING IN THE FASHION WORLD….
FIND OUT RIGHT HERE
SUBMIT YOUR EVENT TO FASHION AVENUE NEWS TODAY
SDavis@FashionAvenueNews.com
---
FREE
POP UP SHOPPING BOUTIQUE

AND DAY PARTY
SHOP INDEPENDENT DESIGNER BRANDS
FRIDAY NOVEMBER 23, 2018
ALOFT HOTEL
This is a personal invitation to attend the FREE Fashion Avenue News POP UP Shop Boutique for Black Friday (Day After Thanksgiving Shopping) and shop Independent Desginer Brands at the Aloft Hotel Harlem  2296 Frederick Douglas Blvd. 123 & 124th Street, 12pm-9pm ALL DAY SHOPPING & NETWORKING.
We will have hourly give aways, music, mini fashion show, dancing, networking and shopping.  Support your independent designers as they always have something FRESH.  Sales start as low as $20 for something UNIQUE.
We will give away 2 FRONT ROW seats to FIFI Fashion Week also.  Come on over and bring some friends, see a mini fashion show.
We look forward to seeing you at the FREE POP UP Fashion Shopping Boutique of Independent Fashion Designers.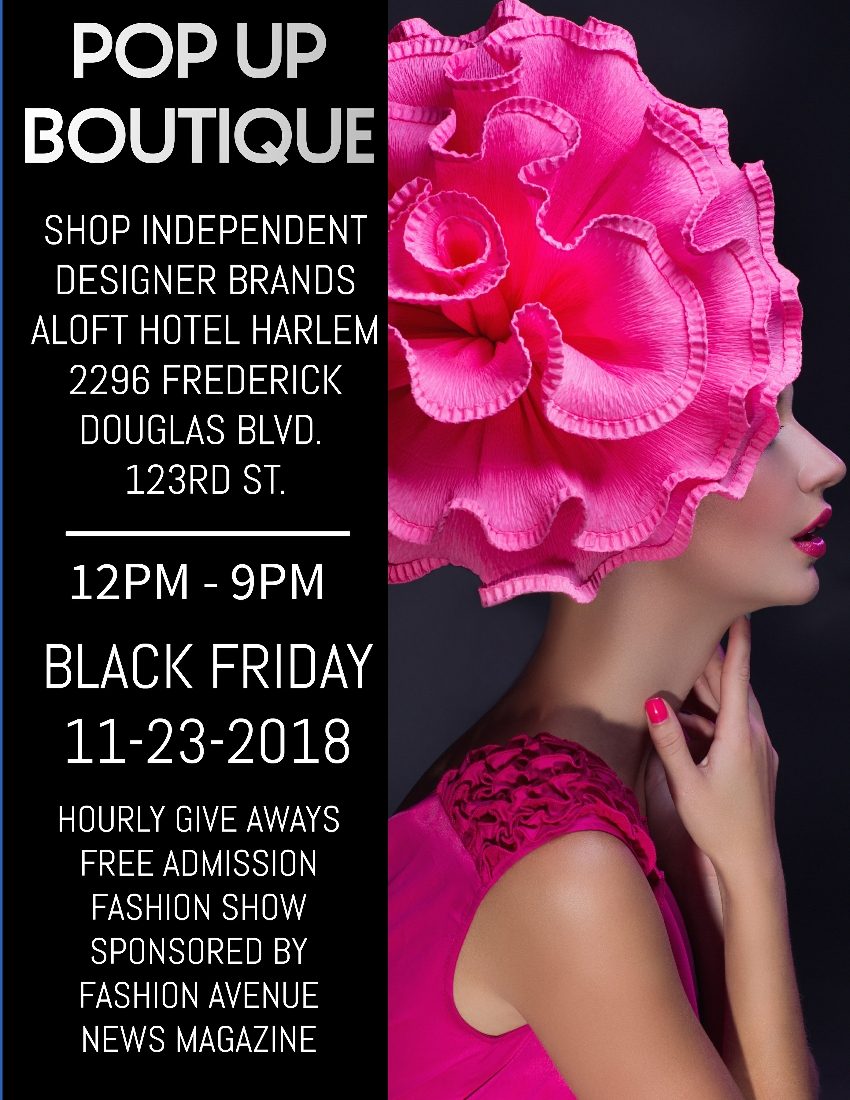 ---
MODEL AUDITIONS
FOR FIFI FASHION WEEK
SATURDAY DECEMBER 15, 2018
CHELSEA STUDIOS 151 WEST 26TH STREET – 6TH FLOOR  2-4PM
ALL MODELS MUST AUDITION IN PERSON
FEMALE MODELS: 5'8″ TALL & up without heels – Hips 35″ and under
MALE MODELS:  5'11" TALL & up – Fit built
Info about the show:  FIFI Fashion Week (Fashion Industry Finest Independents) features the BEST IN THE FASHION INDUSTRY.  The show is held at the Watson Hotel, 440 West 57th Street in the Embassy Ballroom, NYC 10019 and is FREE TO THE PUBLIC to attend.  (Get your FREE TICKETS now click the right side menu link).  There is a Live Mannequin Showroom where the Public can purchase garments before and after the show.
We look forward to seeing you at the Model Auditions where we take only the BEST in the industry.
---
CLICK TO DOWNLOAD THE FABO DESIGNER INFO KIT
$5,000 CASH
ONLY ONE DESIGNER CAN WIN
THE FASHION & BEAUTY OLYMPICS
Fashion Avenue News, the GlobalFashionLuxuryBrand.com is back with the Fashion & Beauty Olympics.
This amazing event will be held October 19, 2019 where ONE DESIGNER will win $5,000 IN CASH.  We are talking CASH, not CASH & PRIZES, not Prizes that make up $5,000 but $5,000 in CASH. 
We have been researching what designers need and we have come to the conclusion that they need MONEY, CASH MONEY, therefore we have bought the Fashion and Beauty Olympics back.  With the event happening in October 19, 2019, it gives designer ONE YEAR to prepare for this event.  We have the BEST FASHION JUDGES in the industry.
We welcome you to speak directly to a previous winner, Kenya Smith of Planet Zero Motor Sports.  He can give you an insight on the Fashion & Beauty Olympics.
If you are a designer that can use $5,000 in CASH, start thinking about the Fashion & Beauty Olympics.
More info to come, click in the right side menu to sign up to audition.  You will be sent an audition date and time.
NOTE:  This event is Sponsored & Produced by Fashion Avenue News, the GlobalFashionLuxuryBrand.com
Stay tuned for the upcoming SuperModel $5,000 CASH competition.
---